Welcome to the webpage of Steven Kuehn, mystery author and archaeologist. Hope you find it of interest, and please contact me with any comments or questions!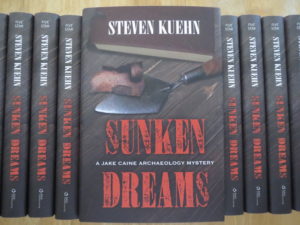 Sunken Dreams: A Jake Caine Archaeology Mystery is now available!
This is the first book in the series, combining archaeology and the traditional mystery thriller. Please stop back often to find out about giveaways and author events.
The early reviews are in!
"Sunken Dreams is a well-written and engrossing whodunit. Kuehn's deft handling of plot and character bring the mystery to a satisfying conclusion…"
-Sarah Wisseman, author of Burnt Siena, Catacomb, and Bound for Eternity
"For years I have hoped for an archaeological mystery set in Wisconsin and Steven Kuehn's initial Jake Caine novel fills the bill admirably. It is a well-written, well-plotted tale, stocked with believable characters. Four enthusiastic trowels for Sunken Dreams!"
–Bill Gresens, Book Reviewer, Mississippi Valley Archaeology Center, University of Wisconsin-La Crosse