Welcome to the webpage of Steven Kuehn, mystery author and archaeologist. Hope you find it of interest, and please contact me with any comments or questions!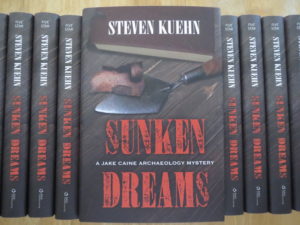 Sunken Dreams: A Jake Caine Archaeology Mystery is now available!
This is the first book in the series, combining archaeology and the traditional mystery thriller. Please stop back often to find out about giveaways and author events.
Upcoming Events!
In October, I will be attending to wonderful book events in the Midwest.
Indie Author Day, Mahomet Public Library, Mahomet, Illinois (October 8, 2016). The day's events include writing workshops for adults, teens, and youths; presentations on local history and folktales by two prominent area writers; and a local author Meet-and-Greet and book signing. Stop by in the afternoon to discuss archaeology, mysteries, and more! Additional details can be found at the Mahomet Public Library's website: www.mahometpubliclibrary.org. Hope to see you there!
Magna Cum Murder XXII, Indianapolis, Indiana (October 28-30, 2016). On Halloween weekend, I'll be attending the Magna Cum Murder Crime Writing Festival, sponsored by Ball State University. For over 20 years this event has brought together a fantastic crowd of crime writers, mystery readers, and booksellers, for a three-day celebration of the genre. Numerous panels, signings, and activities are planned, with something for everyone! For more information, check out the Magna Cum Murder website: http://cms.bsu.edu/academics/centersandinstitutes/ebball/magnacummurder.
The early reviews are in!
"Sunken Dreams is a well-written and engrossing whodunit. Kuehn's deft handling of plot and character bring the mystery to a satisfying conclusion…"
-Sarah Wisseman, author of Burnt Siena, Catacomb, and Bound for Eternity
"For years I have hoped for an archaeological mystery set in Wisconsin and Steven Kuehn's initial Jake Caine novel fills the bill admirably. It is a well-written, well-plotted tale, stocked with believable characters. Four enthusiastic trowels for Sunken Dreams!"
–Bill Gresens, Book Reviewer, Mississippi Valley Archaeology Center, University of Wisconsin-La Crosse